ClubTV is New Zealand's leading RSA/Club Digital Display solution. We have worked with countless businesses around the country to improve their visibility and increase sales.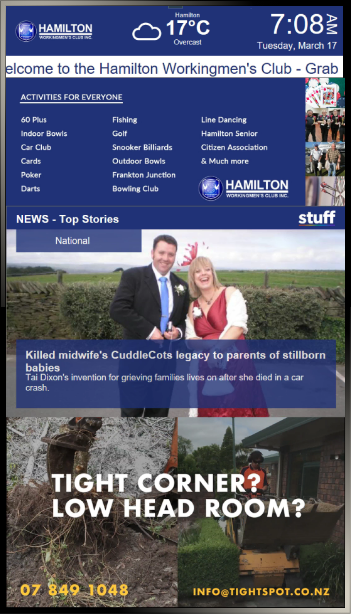 RSA, Workingmens & Sports Clubs Throughout New Zealand
Information Region Content
News
The latest news headlines from Stuff.
Traffic
Localised NZTA Traffic Cameras.
Weather
Location 3-Day Weather Forcast.
Landscape Advertising playback
Unlike the portrait variant, with the landscape layout, the adverts are played full-screen.  Every so often, the adverts will take over full-screen and play a number of adverts before reverting back to the default layout.
We have a professional in-house design and production team ready to create an advertisement that best represents your business, products, services and culture. Whether you have existing branding or would like us to assist in creating new content – we are here to help. Below are examples of Marine advertisements we have created for clients we currently work with.